October of 2022 will mark Get You In Shape's 15th Year Anniversary of starting the Get You In Shape fitness program in Coppell. Our Lifstyle Makeover Coaching program will be taking on 10 new clients to help us celebrate our 15th year.  
Although Get You In Shape was officially  "born" in 2006 (I'll share that story in the coming days), we are celebrating 15 Years since starting in Coppell where we have made our home. 
I have added a few lessons I've learned along the way that hopefully will give you more insight to the journey it's been but also help give you some wisdom.
"What are lessons learned from 15 years of being a small business?
"Over the next few weeks, I will share some lessons learned.
If you see value in it, I encourage you to share this on social media and tag a friend who may benefit from reading it. 

We are going to go backward on the list so that it's updates over time.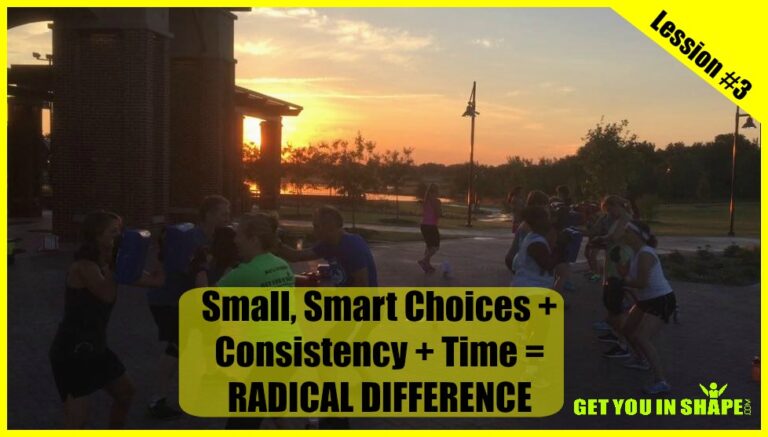 Lesson #3"Small, Smart Choices + Consistency + Time = RADICAL DIFFERENCE" 

If you read how Get You In Shape came to be (link here), Get You In Shape was NOT a success overnight. It was an accumulation of years of hard work that prepared me to be ready for when I actually did start Get You In Shape. 

I love this quote from Darren Hardy. Get You In Shape's success over the last 15 years came with YEARS of ​Small, Smart Choices, Consistently ​Over Time! ​​

It's was a small and steady journey that began from an early age. When Get You In Shape started in 2006 (the first Coppell fitness session was October of 2007) it was a combination of years of small, smart choices and consistency of growing myself. ​​I call this sharpening my sword.

Although, I did not necessarily know what GOD had in store for me, I stayed the course and kept going.

When the Get You In Shape Coppell Fitness program started, all the years of Small, Smart Choices, Consistency and Time just came together perfectly to allow Get You In Shape to grow FAST.

This was mainly due to all the work that had already been done leading up to October of 2007.​​

That first month we started only 5 clients at 5:30am during the month of October of 2007. Because of the small and consistent effort over the ​ years preparing me, it quickly grew. ​After 6 months, that one 5:30am session had added a 8am session and two evening sessions along with serving over 60 clients.​​

After 18 month, we now offered a 5:30am, 6:30am, 8am, 12pm and two evening times while helping more than 100 clients. ​Now, after 15 Years, we have served well over 5,000 people throughout the years through all of our services. ​The Get You In Shape Fitness program now serves anywhere from 140-150 clients each month.

100 clients in 18 months! ​​​You could not make the growth up but I attribute most of it to all the years prior to 2007 preparing me, getting me ready to serve people and me choosing to make ​Small, Smart Choices, Consistently ​Over Time! ​

This Lesson also applies to anyone looking to change their lifestyle and health. Most of the clients come to us wanting to look better, feel better and perform better.

Many of them want results YESTERDAY but have to understand that it's going to be a journey and process of making ​Small, Smart Choices Consistency Over Time to make a RADICAL DIFFERENCE. ​

It's important to understand that if you truly to want to LIVE the lifestyle that you DESIRE you are going to start making smarter (HEALTHIER) chooses today, tomorrow, a week from now, a month from now, six months from now, a year from now……you get the picture.

We are the result of our choices made throughout the day. As it relates to your health and fitness, we do have some choices. Once we realize that it's our choice to eat healthy or not health, we understand that we have control over the lifestyle we desire. There is a lot more to all this when it comes to our "mental game plan" but understand that if you are looking to lose weight, have more energy and/or be more productive at work, you've got to understand that if you are looking to long term change, it's going to come with ​Small, Smart Choices Consistency Over Time.​Long term change is not going to come in a 21 Day Jump Start, 24 Day Challenge, 28 Day REboot, 6-Week Challenge or 90 day Get Ripped Challenge.

Although, those are very effective at getting short term results, they are just kick starts to help you get started. Long term lifestyle and results come from making those smart choices day in and day out over a period of time. "Small, Smart Choices + Consistency + Time = RADICAL DIFFERENCE"​I use this quote in pretty much everything in my life.

If you are looking to make progress in something, you need to understand this Tip.​​

If you want to see the previous Lessons, keep scrolling down.If you enjoyed this post and think others would benefit from it, click on the share button below.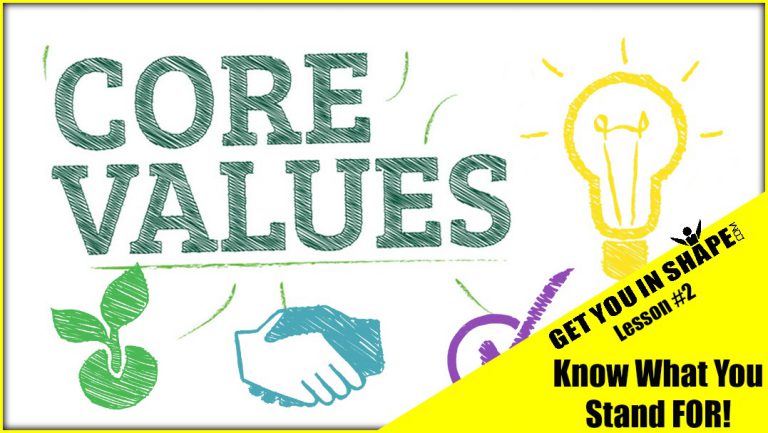 Lesson #2 Build Solid Core Values and Know What You Stand For 
Below are Get You In Shape's core values. It has changed very little over the last 15 years.  Knowing our core values and living/standing by them day in and day out has helped us stay consistent.
It starts by me, the owner living out our Core Values each and everyday. Then it applies to the Get You In Shape staff and to our fitness family (our Clients).
Looking back, these core values have certainly been one reason the program has and continues to thrive. My number one value I wanted when starting in 2006 was community. I have heard too many times of people not feeling welcomed or people not being able to stick to a program because they were did not have people in their life that has the same desires to change their lifestyle as they did.
Com-mu-ni-ty – A feeling of fellowship with others, as a results of sharing a common attitudes, interests and goals. 
I am humbled by the community and the #Fitnessfamily that has been built at Get You In Shape.
This is something I can be proud understanding that I've created an environment that people want to get in their car and be a part of.
Many of our clients started our program not knowing anyone.
Over the years we have had clients, who never met prior to starting with Get You In Shape, go on trips together. Some going on a relay race, some going on a trip to Santa Fe, Mexico to stay in cabins and ski. Many clients have stated that some of their closest friends now came through Get You In Shape. 
Starting the process of getting in shape and staying in shape is very tough. We set out to put people in a positive environment that will create motivation, encouragement, accountability and inspiration. All of those will allow us to stay consistent in our fitness and nutrition. Having a support system (from trainers, tools and all the GYIS clients) and building a community has been key to our program.
Get You In Shape's 5 Core Values: 
Community: Create a positive and healthy environment that promotes motivation, encouragement, accountability and inspiration.
Servants Heart: Respect and serve each person wherever they are on their health and fitness journey.
Empower: Help motivate each client to a live healthy lifestyle so they can pay it forward.
Give Back: Use our God-given gifts to help our community and worthy causes.
Over-Deliver: Provide a service that goes above and beyond the typical fitness program
Mission Statement: Get You In Shape provides Scientific based, no-hype health and nutrition solutions to its clients by delivering an outstanding positive experienceWe accomplish this mission . . .
by educating the community by delivering results driven programs by helping those who want to be helped by acting in a manner that brings out the best in others by enriching the lives of those with who we come in contact with
Living by the core values and mission statement has really allowed us to build a program that actually PRODUCES RESULTS (over 5,743 clients and over 840+ Video Success Stories on our YouTube Playlist) and provides a level of SERVICE that people NEED when it comes to a health and fitness program.
Over time we have continued to carry out our values by having client parties, client appreciation parties, breakfast together, BINGO games, yoga sessions, mobility sessions, Team Challenges and adding other activities to create that positive environment.
I can't say it better than what the dictionary says COMMUNITY IS…A feeling of fellowship with others, as a results of sharing a common attitudes, interests and goals. 
The FEELING part is real.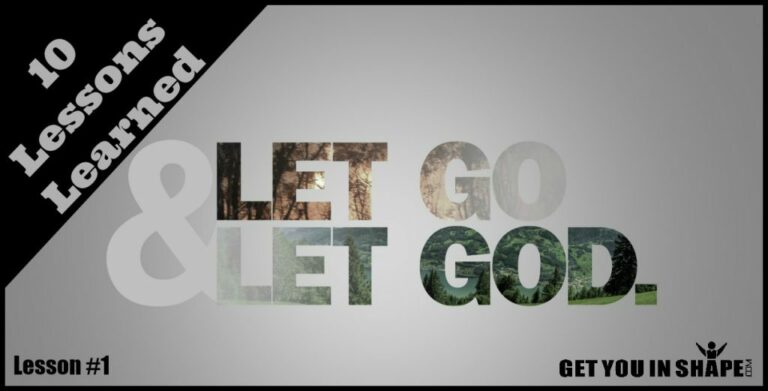 Lesson #1 God Is In Control and "It's Not About Me"!  

I read a book a long time ago called "Let Go and Let GOD."
Get You In Shape would not be possible without God being in Control.
I learned quickly to let God be in control (once I finally gave in and pursued health and fitness as a true profession) of everything when I started. I know I started Get You In Shape, but I will continue these lessons learned using WE since it's not about me. 
The name, the core values, the trainers and the awesome clients have all been because of God.
We knew that God was in control and continues to be the CEO of Get You In Shape.
We know all the clients that have come our way were led from God which is why we have done our best to live out the Get You In Shape core values. I could certainly not have scripted the growth (5 clients to 60 clients in 6 months and 100 clients in the first 12 months). With God being in control from day one and giving all the credit to HIM, Get You In Shape has been able to change a lot of lives.
"It's not about me" is a motto I personally strive to live by every day. It's very strange for me to say the word "I" when it comes to Get You In Shape.
If you know any of my story I did not intend to be a "Personal Trainer" or be known as the "Fitness Guy."
Although I played basketball through the professional ranks and received a master's degree in Health and Kinesiology, it was more of a hobby than a profession of helping people look, feel and perform better.
Long story short, after a number of years of doing what I loved as a hobby part time, I knew I finally had to give in and use my God-given gifts to help people in the area of health and fitness.
Although Get You In Shape was started in 2006, I did not officially start pursuing my passion and start the Get You In Shape Group Personal Training Program (back then it was called fitness boot camp) until 2007. I do think that EVERYTHING that lead me to this step was helping me prepare for building a solid business. A business that relied on core principles that have come from God being in control. 
As I took the focus off of me and what I wanted out of life, it become more and more clear that I need to Let Go and Let God take over. As it related to Get You In Shape, it was a correlation in understanding what GIFTS God had given me. The little things that I thought were weird about me actually was what helped me provide a service-driven business. I focused more on each client and building a community of like-minded people that were all in this thing called "life" together. 
From that point on, I focused on the community and the word "WE". Although we started out with just 5 people in our first ever group session, we grew fast because it was not about me but about the people I was helping.Over the last 15 Years there have been some incredible highs and some big set backs as a business owner that I had to LET GO AND LET GOD take control over. 
I have continued to Let Go and Let God. It's a daily battle to humble myself and allow HIM to take over. Looking back on the journey, I am blown away on the impact ONE CHOICE (the choice to Let Go and Let God) has lead to. 
The transformations that it has led to.The friendships it has led to.The charity it has led to.
"For I know the plans I have for you," declares the Lord, "plans to prosper you and not to harm you, plans to give you hope and a future." Jeremiah 29:11
More to come in the coming days with lessons learned