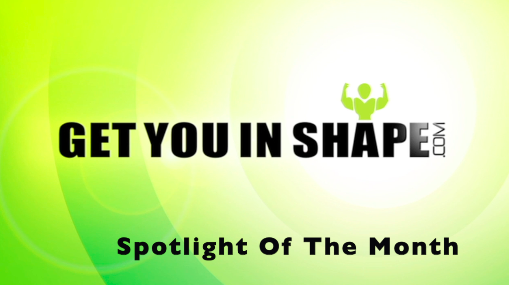 Vanessa Tan is a Preschool Teacher at Riverside Butterfly School but is currently taking a break. She lives in Coppell.
What was your life like before Get You In Shape?
Before joining GYIS, I was on and off with exercising and I never really watched my diet.  It became worse when quarantine started last March. I got very minimal activity.  I was sitting most of the time and stress eating as well.  It started getting harder to sleep at night and I didn't have energy to be productive throughout the day. I felt tired all the time even when I was not doing anything, and I experienced headaches every now and then.
Why did you decide to join the Get You In Shape program?
I started feeling body pains consistently especially in the mornings before getting out of bed. My weight was fast approaching my pregnancy weight and I was definitely not pregnant!  It was difficult to fit into my clothes comfortably if they fit at all. I didn't like how that made me feel and what I saw. I felt something had to be done to improve the situation.  Last September was my 50th birthday.  I wanted to set a goal to be in the best of health since my 20's.
What was your first impression of Get You In Shape?
It was so easy to fit right in.  The group was very welcoming, and the trainers provided modifications to the exercises so you can workout at your own level.  I was challenged but not at the point where I would throw up or pass out.
What have been some of the tools you have used that have benefitted you?
I think I've used all of them – "I followed the darn instructions!"  I have consistently exercised.  I have attended most in person sessions as well as the virtual ones and added evening walks with my husband after dinner on a daily basis.  The 6-week challenge helped me develop the habit of eating better and planning and prepping my meals for the week.  That made it easy for me to maintain a healthy diet since the food is ready for the whole week.  In the past, if I didn't have time, I ended up getting fast food but ever since I've prepped my meals, it helped me stay the course of my diet.   I've used the MyFitnessPal app regularly and because of it, I have been more mindful of proper portions when eating. The check-ins and attendance challenges give me accountability and as a visual learner, I like seeing the progress I make when I check-off the boxes on a daily basis.   The raffle at the end of the month makes it fun to get as many sessions as I can.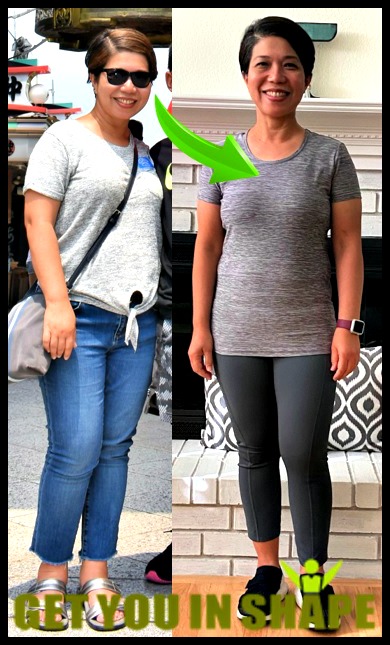 How is Get You In Shape different from other programs you have tried before?
GYIS provides a complete package to a healthier lifestyle. It's not a fast-fix program.  It provides you with a plan that you can definitely integrate in your life and are able to maintain long-term.  I feel that I didn't have to starve myself to lose weight which we know is not effective in the long run.  It helps you with exercise and at the same time it teaches you how to fix and maintain a healthier diet and lifestyle.  In-person sessions are fun since the people are friendly and supportive of each other.  I also like that every session is different, so you don't know if you'll be doing burpees, push-ups (my nemesis) or if you'll be running around the park.
What results and benefits have you experienced with Get You In Shape?
Since joining last July, I have lost 14.2 pounds and 16.75 inches. I have consistently lost 1-2lbs. per week for the past 4 months. My clothes are definitely more comfortable to wear now and I have more energy to be productive throughout the day.  Being consistently active helped improve my mood and mental well-being.  I feel I'm in better health overall since I started working out with GYIS.
What would you say to anyone looking at this program?
Go for it!  The first step is always the hardest but once you get to try it you'll be hooked.  You might think it can be intimidating and overwhelming, but the trainers are so supportive, and the program provides you with many useful tools.  I am following the instructions, and I'm definitely seeing results.
For more information about the Coppell Fitness program and getting started, go to https://CoppellFitness.com
If you live or work in Coppell, Valley Ranch, Irving, Lewisville, Las Colinas, Carrollton, Flower Mound, Grapevine, Addison, Corinth, Highland Village, Dallas, and Farmers Branch, the Coppell Group Personal Training is just minutes away from you. Get You In Shapes programs include the Get You In Shape Group Personal Training, 24 Day Challenge, sports specific training, weight loss programs, Corporate wellness plans, nutrition plans, core fitness training, strength training, toning and more. Clients include athletes (golf, basketball, tennis, football, track, baseball, baseball, volleyball, and softball) corporate executives, professionals, weekend warriors, cheerleaders, dancers, models, stay at home moms, and anyone looking for results.
Owner Brad Linder, has been featured in numerous newspapers and even as the fitness expert on the news 8 (ABC). Get You In Shape was also featured on The Doctors TV show as one of the top Fitness Companies in Texas. He continues to use the gifts that he has been given to help serve the needs others have when it come to being healthy, losing weight, sports, toning up, and overall fitness.
More information about Get You In Shape at www.getyouinshape.com