Debby and Jim have recently relocated to Texas from New York. Jim is retired from News Radio in NYC. They live in Plano, Texas
What was your life like before Get You In Shape?
Jim was driving to work instead of walking to the subway because of the pandemic and crime. He was stress eating and not getting steps in. Debby broke both ankles and between the pandemic and injuries gained close to 30 lbs. They promised each other once the move was made they would have no excuses and focus on their health.
Why did you decide to join the Get You In Shape program?
Jim says Debby threatened to kick his butt..he's just kidding. Debby did some research. She was intimidated by some other classes as she had just started walking again in September. She knew she needed some modified exercises. She found GYIS in her research and knew it would work as it advertised it was for people her age and focused on accountability.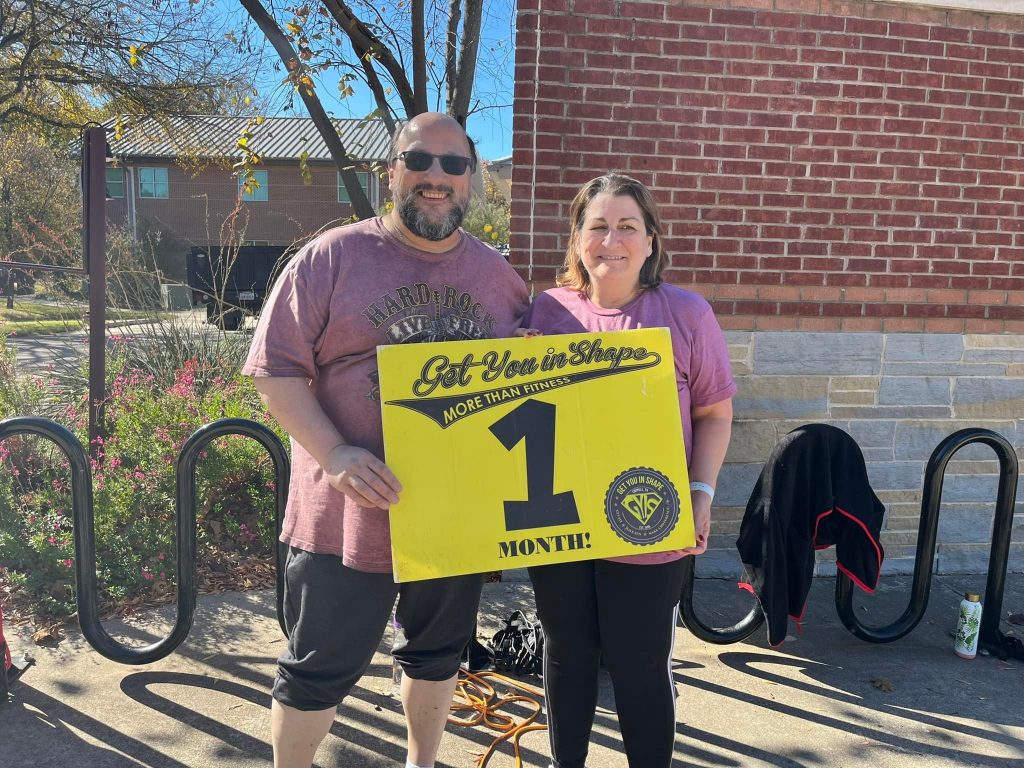 What was your first impression of Get You In Shape?
Debby loves the accountability. She is consistent and feels motivated. The trainers will modify exercises when needed. Jim says he has loved it from day one and never regretted his decision. Everyone is friendly, motivated & accommodating. This program helps you feel comfortable at every stage of your journey. Our first in-person was Mile Day (we did the half) a month later timing improved by over a minute.
What have been some of the tools you have used that have benefitted you?
Both believe the MyCoach app is helpful with accountability. Jim also loves the Facebook Group with the videos, pep talks, and chats. It helps me "follow the darn instructions"
How is Get You In Shape different from other programs you have tried before?
Jim says our first in-person, Debbie, the instructor, was walking to her car to go home, saw us, knew it was our first day, welcomed us and stayed for the next session, working right next to us and giving us personal guidance. I have never received that kindness and care anywhere else. She, and the other instructors, know about Debby's injuries and they are so caring, attentive, patient and motivating to help her recover. (Now, I just need to get all the Deb's sorted out…There's like 4 of them in our classes sometimes) Debby adds that I feel that with GYIS, they want you to succeed and attend the in person and online work outs.
What results and benefits have you experienced with Get You In Shape?
Debby has lost 7lbs, and Jim about 10lbs in the first month. Debby says my progress has been more about mobility and strength – I have become stronger and faster. Jim says I feel the 'aches' a little less and look forward to waking up and getting in a good in-person workout. I feel extremely motivated by challenges, like the 'zero gain' challenge, that help me think about what I am going to eat. My sugar levels have been in a great target range, and my personality has been more 'peppy'.
What would you say to anyone looking at this program?
If you want a program that gives you support and makes you accountable-this is the program for you. I love that I have to check in. Jim adds – it'll keep you from getting your butt kicked by your loved ones.
For more information about the Coppell Fitness program and getting started, go to http://CoppellFitness.com
If you live or work in Coppell, Valley Ranch, Irving, Lewisville, Las Colinas, Carrollton, Flower Mound, Grapevine, Addison, Corinth, Highland Village, Dallas, and Farmers Branch, the Coppell Group Personal Training is just minutes away from you. Get You In Shapes programs include the Get You In Shape Group Personal Training, 24 Day Challenge, sports specific training, weight loss programs, Corporate wellness plans, nutrition plans, core fitness training, strength training, toning and more. Clients include athletes (golf, basketball, tennis, football, track, baseball, baseball, volleyball, and softball) corporate executives, professionals, weekend warriors, cheerleaders, dancers, models, stay at home moms, and anyone looking for results.
Owner Brad Linder, has been featured in numerous newspapers and even as the fitness expert on the news 8 (ABC). Get You In Shape was also featured on The Doctors TV show as one of the top Fitness Companies in Texas. He continues to use the gifts that he has been given to help serve the needs others have when it come to being healthy, losing weight, sports, toning up, and overall fitness.
More information about Get You In Shape at www.getyouinshape.com