Gayle Burke is Director of Finance for Yumi Ice Cream Co., Inc. and lives in Coppell.
What was your life like before Get You In Shape?
Very sedentary.  Also, I drank Dr Pepper every day (on stressful days I called it a 3 Dr. Pepper Day)!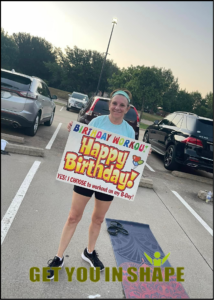 Why did you decide to join the Get You In Shape program?
When the virtual sessions were advertised, I thought that would be a great way to start since I didn't feel I could commit to the scheduled boot camps. Later I realized I could make the 5:30 AM sessions and I've really liked it.
What was your first impression from the Get You In Shape program?
Very organized.  I really liked that "move at your own pace" was encouraged.  Also, I liked the 6 week nutrition plan.
What have been some of the tools you have used that have benefited you?
Definitely, making sure I eat enough fruits and veggies each day.  I still use some of the recipes in the 6 week plan.
How is the Get You In Shape program different from other programs you have tried before?
Community!  It keeps me going, even looking forward to seeing everyone.  I haven't really tried programs in a number of years so I don't have much to compare it to, but anything where I rely on my own will-power tends to fail.
What results and benefits have you experienced in the Get You In Shape Program?
Initially, I just wanted to lose weight and look better in my clothes.  I also wanted to have energy to take care of things at home.  I didn't count on the impact that meal planning would have.  I may not get a lot completed around the house, but I do go to bed earlier and sleep better most nights.  I've lost around 18 lbs. since starting in April.  It's not just the weight, but my body is more toned (engage the core!) and that helps clothing feel more comfortable.  Overall, I'm happier.
What would you say to anyone looking at this program?
Go for it.  The support that Brad and the staff provide is top notch.  They encourage self-accountability and that's a daily reminder.
For more information about the Coppell Fitness program and getting started, go to http://CoppellFitness.com
If you live or work in Coppell, Valley Ranch, Irving, Lewisville, Las Colinas, Carrollton, Flower Mound, Grapevine, Addison, Corinth, Highland Village, Dallas, and Farmers Branch, the Coppell Group Personal Training is just minutes away from you. Get You In Shapes programs include the Get You In Shape Group Personal Training, 24 Day Challenge, sports specific training, weight loss programs, Corporate wellness plans, nutrition plans, core fitness training, strength training, toning and more. Clients include athletes (golf, basketball, tennis, football, track, baseball, baseball, volleyball, and softball) corporate executives, professionals, weekend warriors, cheerleaders, dancers, models, stay at home moms, and anyone looking for results.
Owner Brad Linder, has been featured in numerous newspapers and even as the fitness expert on the news 8 (ABC). Get You In Shape was also featured on The Doctors TV show as one of the top Fitness Companies in Texas. He continues to use the gifts that he has been given to help serve the needs others have when it come to being healthy, losing weight, sports, toning up, and overall fitness.
More information about Get You In Shape at www.getyouinshape.com