Kate Seifert 7th Grade Science and Gardening Teacher at Coppell Middle School East. She lives in Coppell, TX
What was your life was like before joining the Get You In Shape Program?
Before GYIS I was struggling to be motivated to do more than the bare minimum each day. I am a science teacher at Coppell Middle School East, and that requires me to be "on" all of the time. At the end of each day I was exhausted and had no energy to do anything else at the end of each day. Cooking a good meal seemed like such a daunting and tiring task, so I would eat out for almost every meal. I started having health issues like extremely high cholesterol. Because I was not eating right and not exercising, I became very anxious and had difficulty in social settings and traveling. I KNEW I had to change.
Why did you decide to join the Get You In Shape program?
I first joined the GYIS program with the mindset on strictly losing weight. That was not the right mindset to start off with and I ended up quitting after 1 year. I came back when my weight and health was at an all-time low. This time my mindset was completely different. I knew I had to completely change the way I was living my life – what I ate, when I exercised, and how I organized my days.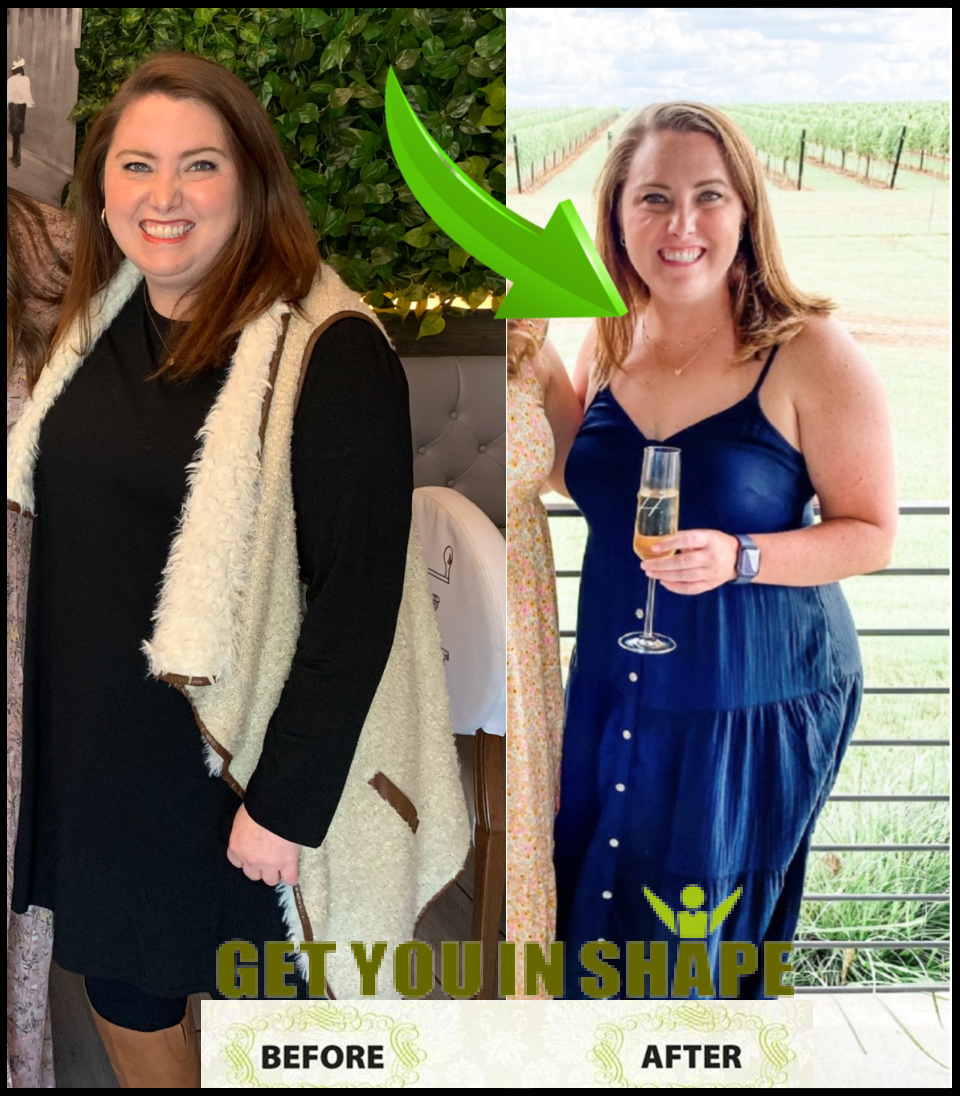 What was your first impression from the Get You In Shape program?
My first impression of GYIS was that it is a true community. The trainers and clients are all part of your journey. We celebrate each other's wins and help each other when we are facing struggles. From my first day, everyone was so helpful and encouraging. Everyone introduced themselves and wanted to know who I was. As I continued going each week I learned more about people's lives and their families. It is so fun to show up each week and hear how everyone's week went and what is going on in their lives.
What have been some of the tools you have used that have benefited you?
The tool that has helped me the most has been the MyFitnessPal app. This app allows me to see what nutrients I am putting into my body. It is way more than just a calorie counter! The other tool that has been very helpful for me has been the MyCoach app. I LOVE to check things off a list, it makes me feel accomplished each time I check a task off.
Another "tool" that has really helped me along my most recent journey has been the challenges! The 200 mile challenge really pushed me to get out and walk/run every day. That was very important for me because in the summer I tend to get off my sleeping schedule and then it is too hot to get out and walk/run. The 200 mile allowed me to set a schedule for myself and keep to the lifestyle changes I have made.
How is the Get You In Shape program different from other programs you have tried before?
I have tried A LOT of different exercise programs to get back in shape and nothing ever worked. GYIS is different because the trainers meet you where you are, but also know how much you can take. They will push you to be your very best. There is no expectation to be perfect or to be the most fit person. The expectation at GYIS is progress.
The other thing that makes GYIS different is they focus on LIFESTYLE. GYIS is not just a workout, it is a full lifestyle change. You will learn to focus on not only movement but also water, food, and sleep. "Following the darn instructions" is what makes GYIS work for me.
What results and benefits have you experienced in the Get You In Shape Program?
The biggest benefit that I have experienced from GYIS has been happiness. Before I started GYIS I was very unhappy with how I looked and how I was living my life. For the past 6 months I look forward to each day because I know that I am living my life in a healthy way. Every time I see my mom, which is a lot, she tells me how much happier I look. I smile more, I laugh more, and I am more engaged with the people around me.
Another benefit that I have experienced from GYIS has been my energy level. It has had a major effect on how well I do my job each day. Because my energy levels are higher, I am able to teach with more enthusiasm and more patience.
Last but not least, HEALTH! In the past 6 months I have lost 20 pounds and my BMI has gone from 33 to 29. During the Covid lock down I gained a lot of weight. I was eating terribly, drinking wine every day, and not exercising. Once I fully recommitted to GYIS at the start of 2021, I lost 5 pounds in my first month. I have continued to lose weight because I have stayed committed to "following the darn instructions"
What would you say to anyone looking at this program?
GYIS will completely change how you live your life in the best way if you are fully committed. You will be surrounded with like-minded individuals that want to see you succeed in your journey. Also, try the 5:30am class, it's totally worth it!
For more information about the Coppell Fitness program and getting started, go to http://CoppellFitness.com
If you live or work in Coppell, Valley Ranch, Irving, Lewisville, Las Colinas, Carrollton, Flower Mound, Grapevine, Addison, Corinth, Highland Village, Dallas, and Farmers Branch, the Coppell Group Personal Training is just minutes away from you. Get You In Shapes programs include the Get You In Shape Group Personal Training, 24 Day Challenge, sports specific training, weight loss programs, Corporate wellness plans, nutrition plans, core fitness training, strength training, toning and more. Clients include athletes (golf, basketball, tennis, football, track, baseball, baseball, volleyball, and softball) corporate executives, professionals, weekend warriors, cheerleaders, dancers, models, stay at home moms, and anyone looking for results.
Owner Brad Linder, has been featured in numerous newspapers and even as the fitness expert on the news 8 (ABC). Get You In Shape was also featured on The Doctors TV show as one of the top Fitness Companies in Texas. He continues to use the gifts that he has been given to help serve the needs others have when it come to being healthy, losing weight, sports, toning up, and overall fitness.
More information about Get You In Shape at www.getyouinshape.com