Debbie Diamond is a Grant Writer and lives in Coppell
What was your life was like before joining the Get You In Shape Program?
I was out of shape and my diet was not the best. I felt kind of trapped like I knew I needed to do something, just couldn't get motivated.
Why did you decide to join the Get You In Shape program?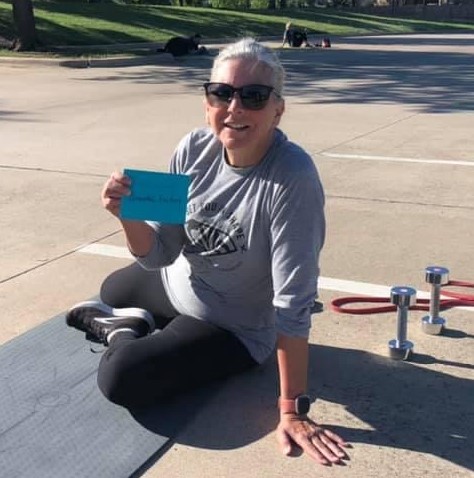 I knew I wouldn't work out on my own and I wasn't sure what kind of exercises to do. I had seen the GYIS group working out in the CORE parking lot and a friend invited me to come to a session. I liked the idea I could do a 90 day trial first just to see if I liked it. It took me a bit, but now I don't know what I would do without Get You In Shape.
What was your first impression from the Get You In Shape program?
I could tell Brad was serious about helping people. There was a positive energy within the group, and everyone was very supportive. I never felt bad about my exercise ability and appreciated the options (levels) for the exercises. No one pushed you, they encouraged you.
What have been some of the tools you have used that have benefited you?
I have been going to the 8:00 am class since I started. I did the virtual during COVID but couldn't wait to get back outside with the group. I continue to use the focus exercises to work on different areas. I completed the 200-mile challenge and am working on the 400 miles. I have used some of the recipes and nutrition tips.
How is the Get You In Shape program different from other programs you have tried before?
Get You In Shape is different from other programs in that it is focused on people my age. The workouts vary so you don't get bored or in a rut. The coaches are fun, they fit in with the group, and don't act like they are better than everyone else. I like that they join in with the workouts and joke about difficulty levels. The people are friendly and encouraging.
What results and benefits have you experienced in the Get You In Shape Program?
My goal when I started was to lose 20 pounds and strengthen and tone muscles. I lost about 8 pounds in the first 4 months. I wanted to pace the weight loss, so I didn't gain it right back. I continue to feel better as I get in better shape. I'm more flexible than before and feel much more comfortable trying new things. Today, after almost two years, I have lost those 20 pounds, toned some areas, and dropped my BMI by almost 4 points. I get compliments on the way I look from friends, I feel more confident, and truly enjoy the workouts.
What would you say to anyone looking at this program?
Even though it is a group program, you can customize it to fit your own needs. You'll feel better, sleep better, and feel more confident. You can participate as much as you want in the program, including challenges and nutrition support. But watch out, you might just get addicted. I am!
For more information about the Coppell Fitness program and getting started, go to http://CoppellFitness.com
If you live or work in Coppell, Valley Ranch, Irving, Lewisville, Las Colinas, Carrollton, Flower Mound, Grapevine, Addison, Corinth, Highland Village, Dallas, and Farmers Branch, the Coppell Group Personal Training is just minutes away from you. Get You In Shapes programs include the Get You In Shape Group Personal Training, 24 Day Challenge, sports specific training, weight loss programs, Corporate wellness plans, nutrition plans, core fitness training, strength training, toning and more. Clients include athletes (golf, basketball, tennis, football, track, baseball, baseball, volleyball, and softball) corporate executives, professionals, weekend warriors, cheerleaders, dancers, models, stay at home moms, and anyone looking for results.
Owner Brad Linder, has been featured in numerous newspapers and even as the fitness expert on the news 8 (ABC). Get You In Shape was also featured on The Doctors TV show as one of the top Fitness Companies in Texas. He continues to use the gifts that he has been given to help serve the needs others have when it come to being healthy, losing weight, sports, toning up, and overall fitness.
More information about Get You In Shape at www.getyouinshape.com