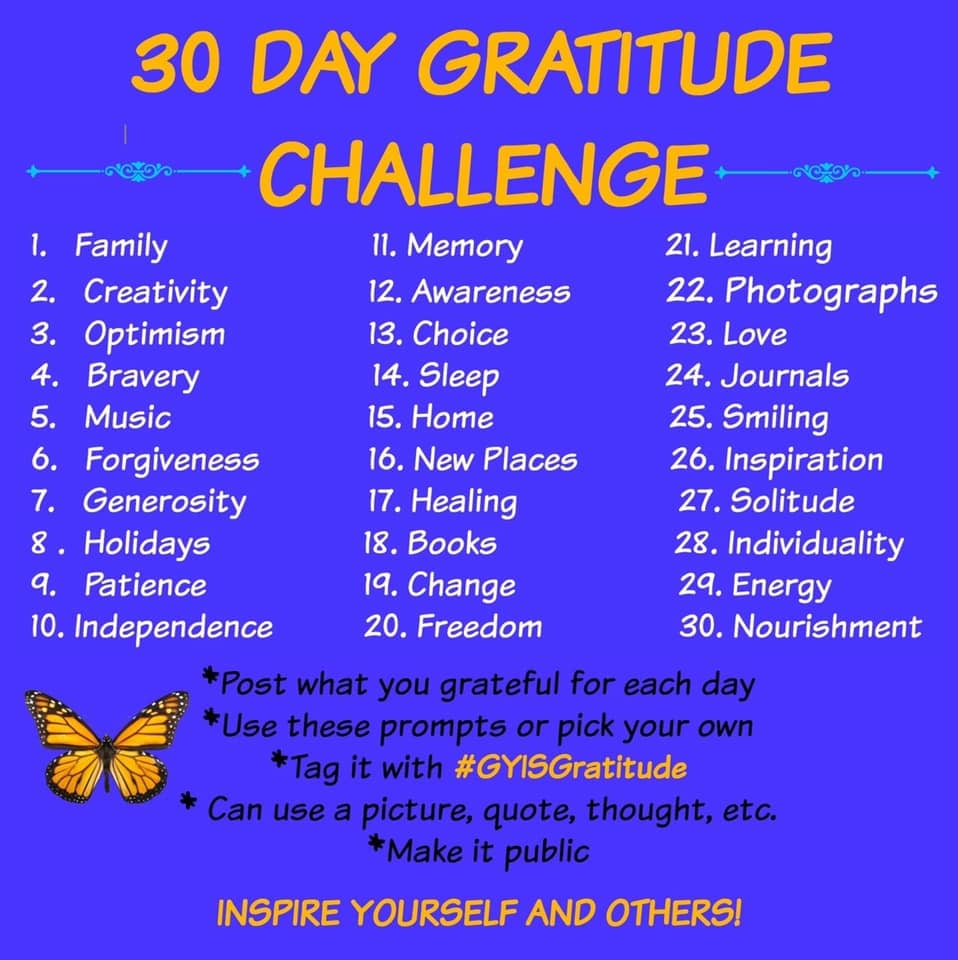 WANT TO JOIN OUR GRATITUDE CHALLENGE?
November is a time we look back and ahead and give thanks for all we have, so it's the perfect time to implement a Gratitude Challenge. Who knows, by the end of this you may be inspired to keep it up year round.
Whether things are good or bad, focusing on what you're thankful for makes them even better, and I'll hope you'll join me in the Gratitude Challenge and share some of that gratitude goodness in your life to inspire others.
THE CHALLENGE DETAILS
• This is for everyone. You don't have to be a Get You In Shape Client to participate.
• "Challenge" is just a word.
It's not so much a "challenge but rather a way to inspire you share something (a photo, illustration, quote, etc.) every day post something, someone, someplace, etc. that you are grateful for. I have included some prompts/ideas to get you going, but this is your challenge so get creative, make up your own prompts, etc. And don't feel pressured to attain perfection, either. Thankfulness is what it's all about; no need to be a professional photographer or artist!
• Join in at any time.
The point of the Challenge is to focus on staying thankful for thirty days. You can start the challenge on November 1 and do it for the whole month, or you can start the challenge any day that works for you and follow along at your own pace. And although we have called it a 30 Day Challenge – it doesn't mean that you have to stop there. Keep it going for as long as you like!
• Use the hashtag #GYISGratitude.
Sharing your pics, quotes, thoughts, etc. on your Facebook page (needs be public) and tag them with #GYISGratitude.

Making it public is the only way everyone can see it so we all can be motivated, encouraged and inspired by all the posts.
• Save or print out a reminder.
Keep up with the suggested prompts by downloading the challenge, print it out and post wherever you'd find a reminder helpful (save it to your phone, perhaps!), so you can stay on top of the prompts. Of course, you don't have to do them all in a row, but there is something special about spending 30 days focusing on what you're thankful for. OR make your own list ahead of time, so you can stay on track and not miss a day. See below to click and print.
• Reward.
Promote self-care and self-awareness and to be more present in our everyday life's.
For more information about our Online Fitness Coaching  and Coppell Personal Training program and getting started, go to www.GetYouInShape.com and  https://CoppellFitness.com
If you live or work in Coppell, Valley Ranch, Irving, Lewisville, Las Colinas, Carrollton, Flower Mound, Grapevine, Addison, Corinth, Highland Village, Dallas, and Farmers Branch, the Coppell Group Personal Training is just minutes away from you. Get You In Shapes programs include the Get You In Shape Group Personal Training, 24 Day Challenge, sports specific training, weight loss programs, Corporate wellness plans, nutrition plans, core fitness training, strength training, toning and more. Clients include athletes (golf, basketball, tennis, football, track, baseball, baseball, volleyball, and softball) corporate executives, professionals, weekend warriors, cheerleaders, dancers, models, stay at home moms, and anyone looking for results.
Owner Brad Linder, has been featured in numerous newspapers and even as the fitness expert on the news 8 (ABC). Get You In Shape was also featured on The Doctors TV show as one of the top Fitness Companies in Texas. He continues to use the gifts that he has been given to help serve the needs others have when it come to being healthy, losing weight, sports, toning up, and overall fitness.
More information about Get You In Shape at www.getyouinshape.com