Get You In Shape Invites You to Make the Push for Our Troops!
What can you accomplish in 90 seconds? Join Get You In Shape on May 17th to Give Back to our Veterans through the national nonprofit, Boot Campaign
May 17th, 2014 Coppell– Get You In Shape Fitness is hosting an official Pushups for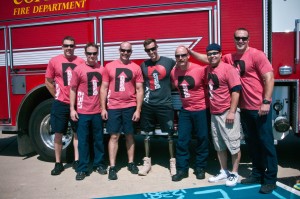 Charity event on May 17th at Coppell High School. Our event is part of the nationwide 5th Annual Pushups for Charity which kicks off Armed Forces Day, May 17th and lasts until the 'Final Push' on June 28th in Washington, D.C. Join celebrities Marcus Luttrell, Leeann Tweeden, Lorenzo Lamas and Nick Searcy in making the push. See their official PSA here: http://youtu.be/TKIpZ2d6X7E In 90 seconds you can make a profound difference. Get You In Shape Fitness has set a goal of raising $15,000 and completing 12,000 pushups this year. Sign up to join our Pushups for Charity team now! www.PushupsForCharityCoppell.com
The Coppell event will mark the 4th year that the Coppell Fire Department and Coppell Police Department will participate in the event to help raise awareness and money. "Our goal is two-fold," explains Brad Linder, owner of Get You In Shape, the Coppell fitness company running the Pushups for Charity event here in Coppell, "we want to show our support for the wounded warriors who have sacrificed so much for our freedom and security, and we want to engage our local community in a fun way to get fit."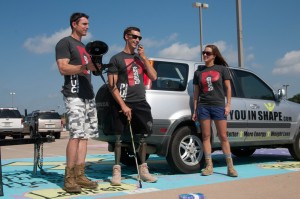 Through the 5th Annual Pushups for Charity, Americans throughout the country will show their support of the 1.4 million men and women who are currently serving by doing as many pushups as they can in 90 seconds. Pushups for Charity's goal is to have Americans complete 1.4 million pushups and raise $1 million to serve troops through the Boot Campaign, which helps veterans by providing jobs, housing, education, wellness, urgent assistance and family support.  In past years, Pushups for Charity has raised more than $600,000 for the Boot Campaign.
Devote 90 seconds to pushups and you will make a life-changing impact on the lives of those who bravely serve our country.  Join the Get You In Shape Fitness Pushups for Charity team here: www.PushupsForCharityCoppell.com
The Boot Campaign is a national 501c3 nonprofit that is dedicated to showing tangible appreciation of our active military, raising awareness of the challenges they face upon return and supporting their transition home.  The Boot Campaign cultivates awareness, promotes patriotism, and provides assistance to military, past and present, and their families.  Through the sale of its signature military combat boots, general public donations, and corporate sponsorship, the Boot Campaign operates six distinct initiatives — Jobs, Housing, Education, Wellness, Urgent Assistance and Family Support– that are caring for military personnel, past and present, healing from a variety of physical and emotional combat wounds, embodying the campaign motto that, "When They Come Back, We Give Back".  www.BootCampaign.com
####
Get You In Shape
Media Contact: Brad Linder Brad@GetYouInShape.com  214-603-8287
Boot Campaign Media Contact: Meghan McDermott Meghan@BootCampaign.com