Bye Bye Belly Challenge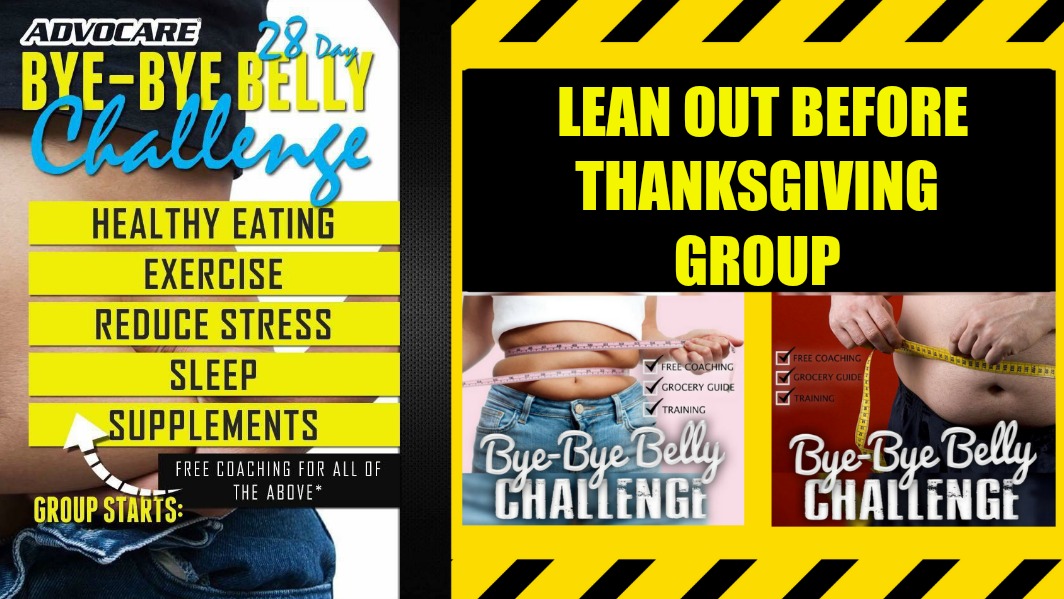 Sign up For Our Kick Off Informational Event Below.
DON'T TAKE OUR WORD FOR IT, CHECK OUT THE RESULTS FROM OUR RECENT CHALLENGE.

HOW YOU'RE GOING TO DO IT!
GROUP SUPPORT

– You'll get motivation, encouragement and inspiration from other like-minded people doing the Group Challenge with you.

INDIVIDUAL ACCOUNTABILITY

– A Personal Accountability Coach Will Be Assigned To YOU. You will get the help needed to succeed.

NUTRITION PROGRAM

– We customize a Nutrition Plan to Fit Your Needs to Ensure Weight Loss and Provide Support Every Step of the Way.

"FOLLOW THE DARN INSTRUCTIONS"

Step By Step Directions. Super Simple 🙂

GROUP MEETINGS

– You'll get Group Meetings with a like-minded group of people who all share similar goals as you.

PRIVATE TOOLS PAGE & FB GROUP

–

Hundreds of Healthy Recipes, Mindset Coaching, Fat-Burning Workouts and Nutrition Tips. Our Facebook Group will help keep you accountable to the group of like-minded people.
WORLD CLASS NUTRITION – We will be filling in your nutritional gaps with safe and effective nutritional supplements that have been proven to be both safe and effective.

WEEKLY CHECKLIST

– This has been proven to be a great tool that will help you stick to the program each week.
The Bye Bye Belly Challenge is lead by Coppell's #1 Transformation Program since 2007, Get You in Shape. It's PACKED With Value and GUARANTEED to help you look, feel and perform better. We are making this challenge about helping you develop HEALTHY HABITS that will allow you to look, feel and perform better. Invaluable Tools, Useful Tips and Tons Of Accountability & Support Will Ensure You Get The AMAZING RESULTS You Desire.
Real People…Real Results. Below are a few pictures after just 3-weeks of our Challenge.