MOTIVATE - ENCOURAGE - INSPIRE
We help men and women lose weight and feel the best they have felt in decades with a transformational combination of individualized workouts, personalized health coaching, powerful-life saving mindset and good old fashioned caring.
What we've found is that most men and women over 40 struggle with losing weight and feeling healthy.  They feel awkward and out of place at the gym so they make excuses to not go like "I'm too busy." 
What they really want is to look and feel better, to have more energy, and increase their confidence.  They want to be able to keep up with their kids (and grandkids) for decades to come. On top of that, they really don't want to put their kids through the hell of taking care of them like they're doing with their parents. 
But they mistakenly think the problem is their weight and that health is a number on a scale.  So they end up going to weight loss programs, buying gym memberships they never use, or trying (and failing) to stay on a diet.  They never create strong health habits and end up right back where they started —— or worse. 
The real problem is that their mindset around health keeps them stuck with the same unsatisfying results they've always gotten, the underlying hormone imbalances that create the weight gain are never addressed, and their health continues to get worse. 
What they really need is to go beyond weight loss programs and diets to discover sustainable health by developing a new mindset and creating a few core habits that are the foundation of health and fitness.
committed to serving their clients and the needs of others to make health and fitness a lifestyle
Get You In Shape's Founder, Brad Linder, hand selects each Certified Personal Trainer to fit the TEAM of trainers that all work together to help each and every client reach their fitness goals. Each Certified Personal Fitness Trainer will have have a top certification with extensive experience in health and fitness. The Get You In Shape team of professional trainers and fitness coaches provides each and every client a positive environment that helps with motivation, encouragement, and inspiration.
aims to help you achieve health & wellness goals
Our Team of Personal Trainers are ready to help you achieve your health and wellness goals. We spend our resources learning about exercise, nutrition, stress management, rest, and recovery so that we can deliver better products & services that produce positive changes in the lives of the people we work with. We're always improving, too. The coaching we're doing now is better than the coaching we were doing six months ago. And the coaching we'll be doing six months from now will be better than coaching we're doing today. Our team wakes up every day with a sense of WHY we come to work.
Brad Linder is the Founder and Chief Transformation Officer of Get You In Shape in Coppell, TX .  
As a former professional basketball player, Brad utilized the knowledge attained from a Master's degree in Health, Kinesiology, and Sport Studies, to optimize his performance.
With an extensive background in fitness and nutrition, he naturally wanted to share this knowledge with others as he entered into the health and fitness field.Since 1998, Brad has been able to help thousands of participants and clients. Brad has created and produced the Group Personal Training DVD and has been featured as the fitness expert on television and in newspaper articles.
In 2006, Brad pioneered a high intensity group personal training program that has received rave reviews.
Get You In Shape had been featured on The Doctor's TV show with Julian Micheal's as being one of the Top Fitness Companies in Texas.

Brad holds multiple specialty training certifications in fitness. He's been coaching clients since 1998. In other words, he's been blessed to have a well-rounded career in this industry…and for longer than most.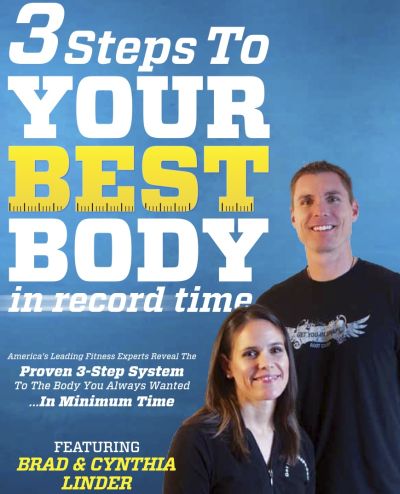 Together, we live our mission to put people in a positive enviroment that creates the motivation, inspiration, encouragement and accountability to become the BEST version of YOU.
Cynthia Linder, Trainer & CFO
Get You In Shape Clint since 2004
Get You In Shape Trainer Since 2007
Certified Personal Trainer
Cooper Institute
ACE Certified Trainer
Cynthia Linder is a former schoolteacher with a Masters Degree in Special Education. She has learned firsthand how to drop dress sizes and get in shape. Struggling for most her adult life to eat healthy and maintain a lifestyle of fitness, she met Brad (husband and owner of Get You In Shape) in 2004. She went from a size 10/12 to a size 4/6 within three months implementing the Get You In Shape recommended nutritional products and the Get You In Shape program. Cynthia has a huge desire to help others by motivating, encouraging, and inspiring others to reach for their goals.
Cynthia is just like many other Get You In Shape clients being a mother of 7 young children and juggling a busy life. She is very inspired by the positive community of Get You In Shape clients and really enjoys being able to workout.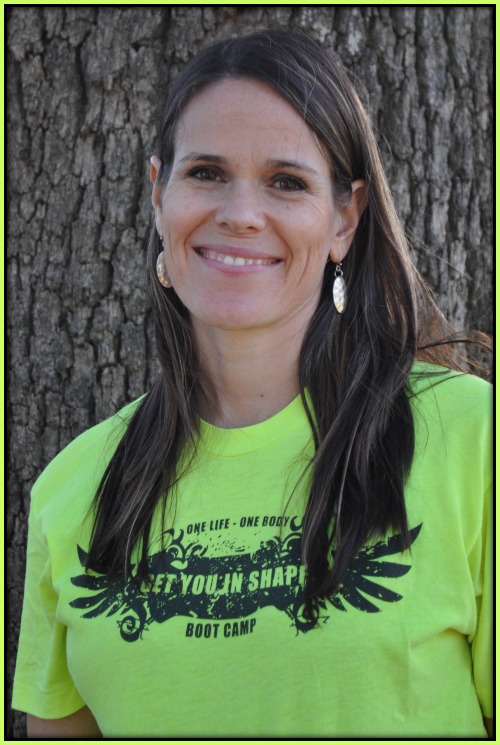 Cynthia knows just what it's like to start over having had 7 kids, she has bounced back every time losing all the weight and back into her pre-pregnancy weight.