Shari Gigliotti has been participating in the F.A.T. Method throught the online program.
Share where you were at in life like before starting the F.A.T. Method?
It was chaotic and stressful. I was just trying to find something that fit. We had moved I had so much going on and wasn't feeling good, I didn't have the energy, and was gaining weight. I wasn't eating the right foods and not doing the things I knew I needed to be doing. I saw your posting about this I thought I trust Brad so this might be a good thing. I should check this out.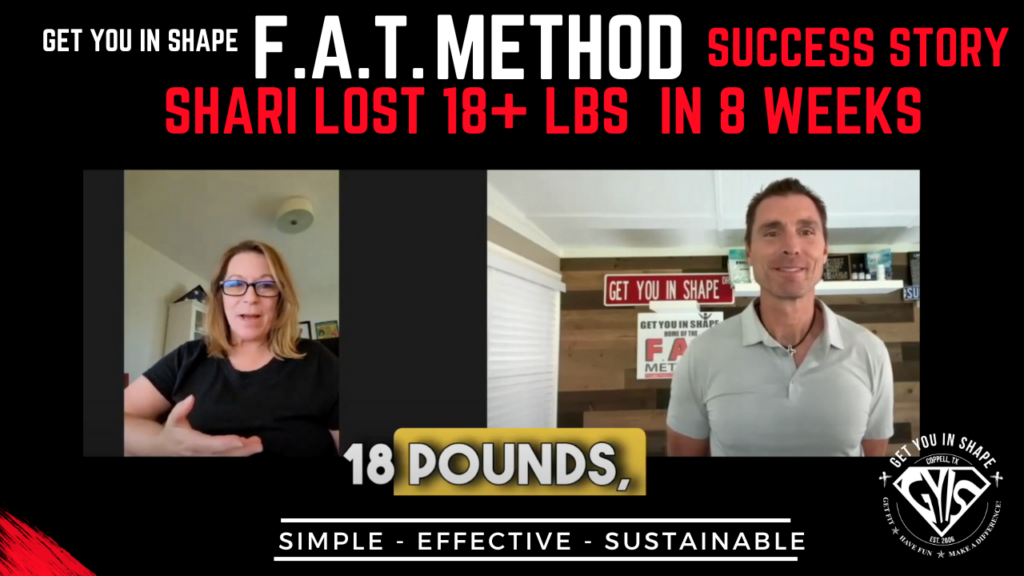 What hesitations did you have prior to the first phone call?
Cost would be one. My ability to do it would be one. I knew I could but there was hesitation or fear of failure because I travel a lot. I thought my husband might be skeptical of this, but when I talked to him about it, this made sense and it fit things he had learned.
What made you get over the hump and decide to try it?
It was because I needed to invest in myself. It was that important.
It's now past eight weeks, so what results and benefits have you experienced in the F.A.T. Method Program?
I have more energy, I sleep better at night. So I would wake up having the energy. Just overall health. My clothes fit better which is important because I have to be in the public.  As a person in my 60's being able to be healthy and moving forward. I've lost inches which is something I struggled with on other diets. I would lose weight but not inches.
In eight weeks I lost a little over 18 pounds, and I lost inches right away.
I love the interaction that you provide, and the touch points and accountability. I always found some nugget that I could take forward.
What would you say now that you have finished? What tools have you gained? 
It's not as hard as I thought it would be. I feel like this is something I can take forward. Even when I fell off a little bit I jump right back on and I didn't beat myself up over the fact that I fell off. I kept focusing on the goal and the goal of healthy living. It's a life decision and it's something I want to do. I want to go on trips. I want to be healthy to be able to do those things. 
Was your investment worth it? 
Oh absolutely. I have no question. The fact that it is something I can take forward and continue for as long as I want was worth every single penny.
What would you say to someone looking to join the program? 
Follow the darn rules and you'll get that when you join. Just believe in yourself and know that you can do this. You've got someone who can help you along the way. You're strong enough to keep moving forward and having support that is really key. It really is not difficult you just make the decision. The most important thing is what is the cost of your health – you can't put a number on that.  
It's now past eight weeks, so what results and benefits have you experienced in the F.A.T. Method Program?
I lost 16 pounds in eight weeks and that was during Thanksgiving and Christmas which was amazing to me. I've lost – I can't remember how many inches. I lost quite a few inches in my waist and hips which is wonderful, but the biggest benefit to me and why I did it was to feel better. The amount of energy was amazing to me. I don't like to work out. I felt like I have to in order to lose weight. I tried a variety of things, found Get You In Shape, the community has helped me continue that going. Before F.A.T. Method, I felt like I couldn't get all the pieces together. The diet, the exercising and being consistent and keep going was where I was struggling.
So during the F.A.T. Method is jut seems to come together. I have more energy to keep going. I go out there and I don't feel like I'm struggling to make it to the end. It makes it even easier. I don't know how to describe it, you just have so much energy. When I came home from the day before, I was usually very tired if I sat down and stop I'm not going to get anything done. Now I feel like I can continue to do things and that's just very powerful for me that that's the biggest thing for me but even more so is the feeling that I can keep going. This isn't a diet. Normally when I'm dieting I'm so strict and I can't stand it so I'm thinking how many more weeks. Then I think I'm going to stop and I'll get right back on and you know – that doesn't happen. You may not gain it all right back, but you get frustrated. It's the cycle of frustration, with this it is a life change.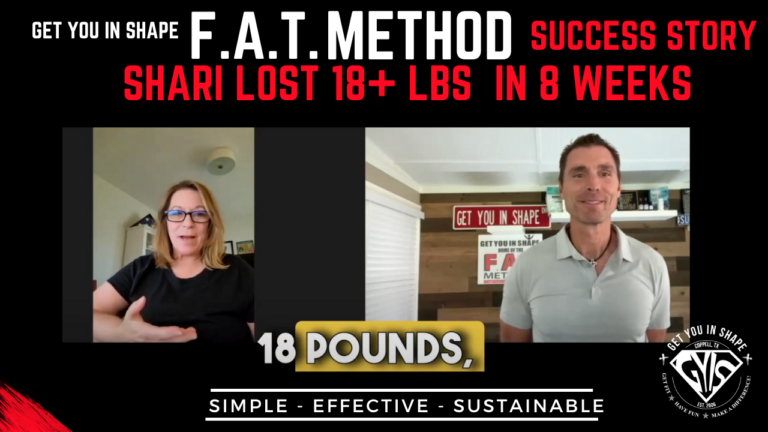 What would you say to anyone looking at this program?
People ask how can you do this, and I tell them it is so easy, just give it two weeks. Give it a solid shot. You have to have a right mindset that you really want it, and know your goals. Don't tell yourself you can't do it, because you can. If I can do it, you can do it.
For more information about the Coppell Fitness program and getting started, go to https://CoppellFitness.com
If you live or work in Coppell, Valley Ranch, Irving, Lewisville, Las Colinas, Carrollton, Flower Mound, Grapevine, Addison, Corinth, Highland Village, Dallas, and Farmers Branch, the Coppell Group Personal Training is just minutes away from you. Get You In Shapes programs include the Get You In Shape Group Personal Training, 24 Day Challenge, sports specific training, weight loss programs, Corporate wellness plans, nutrition plans, core fitness training, strength training, toning and more. Clients include athletes (golf, basketball, tennis, football, track, baseball, baseball, volleyball, and softball) corporate executives, professionals, weekend warriors, cheerleaders, dancers, models, stay at home moms, and anyone looking for results.
Owner Brad Linder, has been featured in numerous newspapers and even as the fitness expert on the news 8 (ABC). Get You In Shape was also featured on The Doctors TV show as one of the top Fitness Companies in Texas. He continues to use the gifts that he has been given to help serve the needs others have when it come to being healthy, losing weight, sports, toning up, and overall fitness.
More information about Get You In Shape at www.getyouinshape.com