Indhu Vijay is a Homemaker and lives in Coppell.
What was your life like before Get You In Shape?
We moved from California in 2010. New place, new people. My daughter was really young and my husband travelled for work all the time. Life was busy. I wanted to work out and was looking for a group workout class. I am not much of a gym person.
Why did you decide to join the Get You In Shape program?
I am definitely not a self-motivated person. I always need a group to work out with. I used to attend a Jazzercise group in California, and I was looking for something like that. I was so happy when I found GYIS. My main reason for joining was health concern. Both my parents are diabetic and I did not want to be.
What was your first impression of Get You In Shape?
I liked this program. I was so relieved because I could just come to class and follow instructions. My first class was with Meg, and I knew I would be with this group for a long time. Everyone in the group was very friendly and encouraging of each other. I have made lots of friends in this group.
What have been some of the tools you have used that have benefitted you?
I love the slam balls and the ropes. I am not a big fan of the yellow bar.
How is Get You In Shape different from other programs you have tried before?
Firstly the number of sessions that GYIS offers in a day. I don't think any other group offers 5-6 different sessions in a day. Secondly, I like that the workouts are not monotonous. There is always variety in the workouts. Also the workshops that are offered like the foam rolling clinic, yoga in the park, and nutrition classes. The best part is you customize the workout for the individual if they are suffering from certain conditions.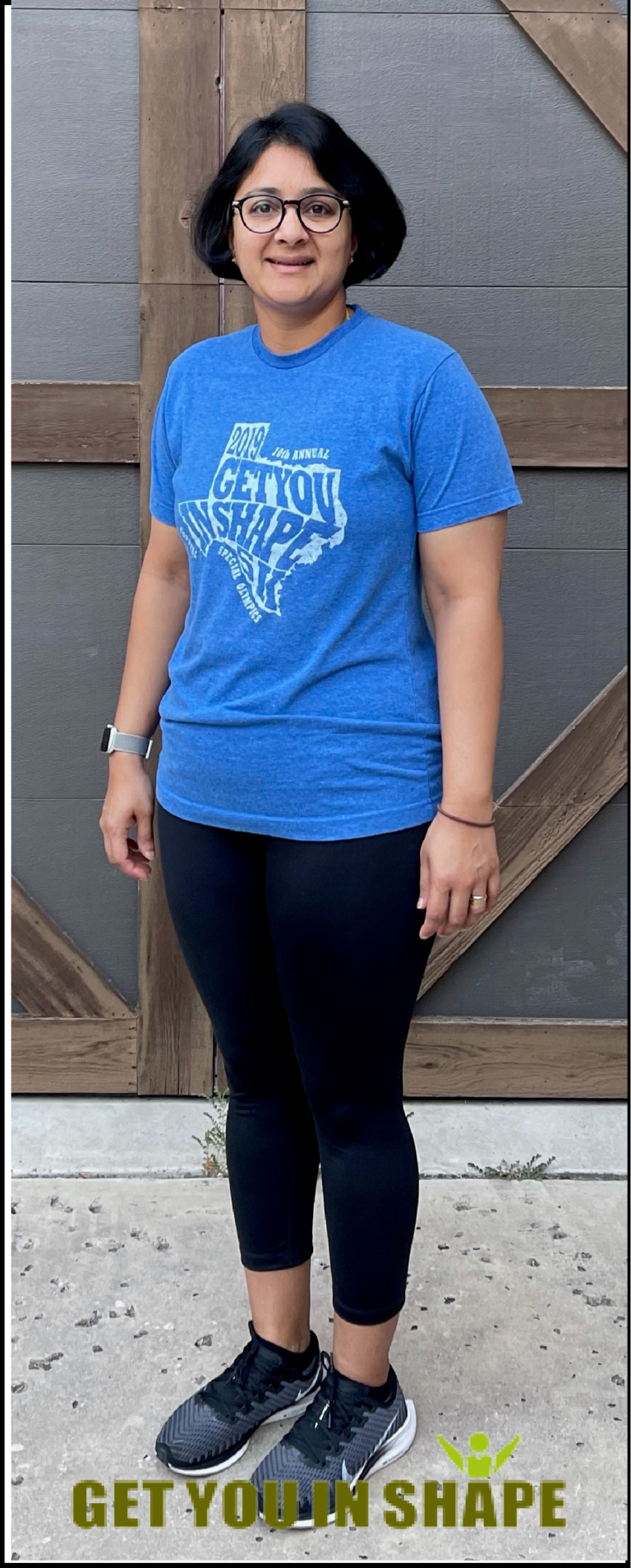 What results and benefits have you experienced with Get You In Shape?
I have never worried about losing weight. I have always wanted to have a toned body and an active mind. I have been with GYIS for the last 4 years and since I joined I have dropped 2 pant sizes. I am very active, healthy and fit. I have kept diabetes away so far. I have definitely noticed that the days I work out I sleep better than the days I don't.
What would you say to anyone looking at this program?
There are so many people in GYIS who have inspired me. I would highly recommend GYIS to anyone and everyone. One for flexibility of classes, two great group environment, three wonderful instructors.
For more information about the Coppell Fitness program and getting started, go to https://CoppellFitness.com
If you live or work in Coppell, Valley Ranch, Irving, Lewisville, Las Colinas, Carrollton, Flower Mound, Grapevine, Addison, Corinth, Highland Village, Dallas, and Farmers Branch, the Coppell Group Personal Training is just minutes away from you. Get You In Shapes programs include the Get You In Shape Group Personal Training, 24 Day Challenge, sports specific training, weight loss programs, Corporate wellness plans, nutrition plans, core fitness training, strength training, toning and more. Clients include athletes (golf, basketball, tennis, football, track, baseball, baseball, volleyball, and softball) corporate executives, professionals, weekend warriors, cheerleaders, dancers, models, stay at home moms, and anyone looking for results.
Owner Brad Linder, has been featured in numerous newspapers and even as the fitness expert on the news 8 (ABC). Get You In Shape was also featured on The Doctors TV show as one of the top Fitness Companies in Texas. He continues to use the gifts that he has been given to help serve the needs others have when it come to being healthy, losing weight, sports, toning up, and overall fitness.
More information about Get You In Shape at www.getyouinshape.com